LandGrabbers
Conquer the world! in addicting LandGrabbers Game
System Requirements
OS: Windows XP/Vista/8
CPU: 1.0 GHz
RAM: 512 MB
DirectX: 9.0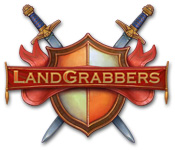 LandGrabbers Game Description
Use your powerful army to conquer the world in Land Grabbers, a fun Strategy game set in the Middle Ages! In a time of castles, knights, and crusades, you are a brilliant military leader who has decided to take on the world! Take your army to the woods, the desert, and even a snowy winter wonderland in this challenging Strategy game!
LandGrabbers full version features include:
45 land-grabbing levels, 3 modes of play
Several environments to conquer, including the moon!
Fantastic gameplay
Gripping challenges
Conquer the world!
LandGrabbers Game Customer Reviews
Great game overall. Great to play if you love strategy. One by one take over the land you are currently on. As you take over the houses/castles, the enemy can come back and take your stuff also. So its like a tug of war and eventually you see if you can take over everything and build a greater army. Quite fun and different.

- by kcerqua
A simple enough concept, but yet really fun to play. When you finished all the levels and thought it was quite easy you get to do them again and again, with a more challenging senerio. I haven't tired of this game, I keep going back and playing a few levels. I find it very satisfying, but you definatly have to work on your stratergy to get through some of the levels.

- by pernod31
It's inexpressible how addicting this easy mechanic game is... click, click, charge!

At first I was also rushing through the levels, restarting now and then... But after finishing all levels: what do we have here? Two more game modes, the second mode tougher than the standard one, less time to beat, harder opponents, and the third even harder without the possibility of artifacts!

Oh well... I guess enough said, I need to gain all that trophies! Chaaaaaarge!

- by JeanPuetz
This will never be confused for Command and Conquer but for casual players it is a great take on real time strategy games. You take over castles, build them up, and send troops to take over more castles. There is even a Nod Obelisk type thing you can take over which roasts enemy troops that get too close. The sound effects are notably funny with a "rabble rabble" every time you send your men out.

Gameplay gets pretty frantic: if you're not clicking, you're not winning! Overall I liked it a lot better than the usual time management type games on here and it is a fun and somewhat original take on the genre.

- by Honeyluvgames
LandGrabbers is a fast paced strategy game. I find it to be addictively fun and so do my teen aged kids. The difficulty increases as you progress and at times can be intense. The graphics are simple but amazingly good for a 'casual' game. The ooh-rahs and general mayhem sounds coming from the advancing hordes crack me up a little. I have tried quite a few of these small downloads and I'd have to say this is the best one so far. You have to figure out how many little dudes to attack with as well as what type. Generally you start out with one building and you use your guys to take over surrounding buildings until you have taken over the map. At times it is not easy and you will find yourself re-strategerizing (lol). If you are adept at real time strategy games you won't go wrong getting LandGrabbers.

- by Apparent
Related Games
If you like LandGrabbers game, you may also like...