American History Lux
Do you know history well? in addicting American History Lux Game
System Requirements
OS: Windows ME/2000/XP/VISTA
CPU: 600MHz or faster Processor
RAM: 128 MB
DirectX: 6.0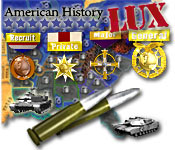 American History Lux Game Description
Learn your American history. Start with the colonization of North America and the rise of the United States. Follow the World Wars and U.S. overseas campaigns. Every war comes as a realistic map outlining the important cities and geography of the time. Background information and links to historical information complete your interactive learning experience.
American History Lux full version features include:
4 difficulty levels.
Fun way to learn.
Great for kids.
American History Lux Game Customer Reviews
American History Lux is a good looking historical variant of the board game Risk. It has been adapted nicely to be played with a mouse and keyboard, and the illustrations are quite fancy. Its weaknesses are the absence of multi player modes, and the fact that the AI's moves all happen within fractions of a second, leaving you quite 'alone' in the game. If you like the game Risk and don't always have a worthy human opponent to play with, Sillysoft's Lux series is something you should definitely try. Friends of abstract strategy or puzzle games may also find American History Lux to be quite enjoyable!

- by Gametunnel
This game is very realistic and is very truthful on the events that happened in all of the wars featured in the game. The bottom line is that this is a great game. and all of you should play it.

- by Brody Sylvia
Well considering I am a huge fan of the game Risk, I thought this game was fun. I enjoyed the quick resolution of battles and thought it was a nice touch seeing different maps. The historical information in the screens leading up to the game itself was very informative and accurate. The ONLY reason I did not rate this game a 5 is because it is basically the exact same game concept as Risk, which hurts its originality. If you like Risk, this game is definitely worth trying!!!!

- by Troy Hooper
Related Games
If you like American History Lux game, you may also like...