Lilly and Sasha: Nexus of Souls
Help Lilly save her sister from an evil deity! in addicting Lilly and Sasha: Nexus of Souls Game
System Requirements
OS: Windows XP/Windows Vista/Windows 7/Windows 8/Windows 10
HDD: 96 MB
RAM: 256 MB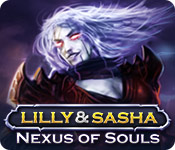 Lilly and Sasha: Nexus of Souls Game Description
Zahhak has Sasha's body and is going to use it to claim the powers of the Immortals. Lilly has vowed to stop Zahhak at whatever cost, even if she has to kill her own sister to do it. Continue your journey from Curse of the Immortals with new puzzles, new skills, runes and trinkets, new characters and 10 new pets, two of which can join you in battle at the same time. The full game also includes a free strategy guide.
Lilly and Sasha: Nexus of Souls full version features include:
Continue your save file from the first Lilly and Sasha
Purchase houses in all of the major towns
Collect and combine materials which can be used to upgrade your house's interior
Collect up to 10 pets to join you in battle
Collect relics to discover ancient secrets and earn powerful weapons
Lilly and Sasha: Nexus of Souls Game Customer Reviews
OMG John Wizard this is the best game you've made yet! You've surpassed my expectations in this game. This game was great. All RPG lovers will love it.

- by phoenixalia
Begins with a brief summary of the first game, multiple difficulty levels, comes with a strategy guide, can have two pets in battle at once now, pretty background music, script can be quite funny, objectives are clearly stated and viewable at any time in the journal, battles are clear and easy to navigate, lots of varied puzzles, plenty of save points, bank is available, there's a town warp system, can equip runes to enhance your attacks and can own pets, own homes, make ultimate weapons and find relics. If you need help in a spot, a green exclamation point will offer tips on how to proceed.

- by Jenni Lada
Related Games
If you like Lilly and Sasha: Nexus of Souls game, you may also like...