Totem Tribe
Restore balance to a dying world and find enough treasure to last a lifetime! in addicting Totem Tribe Game
System Requirements
OS: Windows 95/98/ME/NT/2000/XP/Vista
RAM: 256 MB
Processor: 800 MHz or above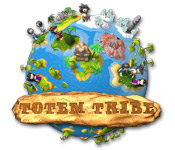 Totem Tribe Game Description
High adventure, real time strategy and hidden object gameplay come together for the first time in Totem Tribe. Build your own tribe, raise settlements and solve ancient mysteries in this intuitive and engaging simulation strategy game! As you protect your settlements and grow your tribe, new islands and secret areas appear. Can you find the lair of the treacherous Dragon and rescue the Princess?
Totem Tribe full version features include:
23 locations to explore
Over 120 quests and puzzles
Toughest enemies to battle
3 possible endings of Aruku's story
Totem Tribe Game Customer Reviews
Totem Tribe had to be one of the best adventure/hidden object games I have ever played. This game has several levels and lots of challenges and the graphics were great. I think I enjoyed this game much more than Virtual Villagers. It is absolutely worth the time to download and the cost is very reasonable. Anyone ages 10 and above should really enjoy this game.

- by Cathy Batten
This is the most addictive game I have ever played in my entire life besides the Sims 2. I'm not kidding. I don't know what it is, but the graphics are great, the strategy aspect is the best I've seen, and the little side-quests and hidden objects to find are fun. My only qualms with the game is the fact the the story line doesn't quite make a lot of sense to me (not that I care that much), and the hidden objects are sometimes impossible to find. If you go on the forums, you can tell that everyone is having trouble finding certain items. The game should have challenges, but certain things should NOT be impossible to achieve. Overall, I really love this game, so be prepared to spend hours and hours on your butt playing it!

- by greengirl02
I loved it!! it's a good game ive got to the last level but can't get past it but that the point of games the last level in every game is the hardest level sometime you have to try realy hard. ps.this is the best game ive played and ive played houndreds of games!!

- by johnjohn331
Related Games
If you like Totem Tribe game, you may also like...