Mevo and the Grooveriders
Help Mevo reunite his band! in addicting Mevo and the Grooveriders Game
System Requirements
OS: Windows XP/Vista
CPU: 1.4 GHz
RAM: 512 MB
DirectX: 8.1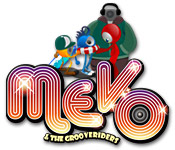 Mevo and the Grooveriders Game Description
Help Mevo reunite his band, the Grooveriders, and end the terrible reign of Silence! This Platform game requires you to use your rhythm and timing to make it through each psychedelic world. String together combos to unlock rewards and special areas and use power-ups to keep your groove going! If you can bring back the funk and get the band back together, Mevo & the Grooveriders will save the universe!
Mevo and the Grooveriders full version features include:
15 funky levels with original music
Customize Mevo for special power-ups
Simple left and right tap controls
Captivating gameplay for all music lovers
Mevo and the Grooveriders Game Customer Reviews
i tried the game and bought the game because its different. fun and challenging - lots of cool things going on and like the review said, great music. i had little trouble with the sync but got used to it really fast. plus you can customize the controls for any keys on the keyboard or your mouse buttons. the art is really fantastic and lots of replayability although some levels are very challenging.

- by morefun
A very fun game even it is not easy, AKA tricky, the theme and concepts are fresh/interesting, great graphics, great sound, addictive and challenging, it is fast pace, think of dancing machine but on keyboard, I had a great time playing the free trial and hope you will enjoy it too. This is a "buy" game.

- by triplegamer
I really like this game, which is one of the most different casual games to be released lately. I loved the GZ reviewer's thought that it is Mario mixed with Guitar Hero. It's extremely challenging. I struggle a lot with it. I've found that the keyboard is much easier to use than the mouse (and I consider myself quite adept on the mouse).

- by ScribbleMuse
Related Games
If you like Mevo and the Grooveriders game, you may also like...