Stand O' Food
Feed a host of hungry patrons before they leave in a huff! in addicting Stand O' Food Game
System Requirements
OS: Windows 98, Windows 2000, Windows XP, Windows Me
Memory: 128 MB
DirectX: 7.0 or later
CPU: P700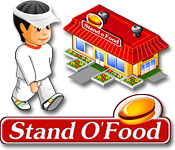 Stand O' Food Game Description
Feed a host of hungry patrons before they leave in a huff at your very own Stand O' Food! As people line up at your counter, you'll slap together burgers, bacon melts and more as quickly as you can. But, Stand O' Food isn't all about speed; you also have to plan ahead to put together the necessary ingredients in the correct sequence. Get the orders correct, and you will earn money to purchase condiments and upgrade your equipment! So start your own Stand O' Food to satisfy all of your cravings!
Stand O' Food full version features include:
Play Quest Or Lunch Rush Mode!
More Than 100 Taste-Tempting Levels!
10 Unique Customers To Serve!
Over 80 Different Sandwiches To Create!
Stand O' Food Game Customer Reviews
CAN'T STOP PLAYING!I RECOMMeND OTHERS TO BUY THIS, IT'S SO MUCH FUN YOU WILL BE PLAYING FOR HOURS. VERY EASY TO LEARN HOW TO PLAY. IT'S EXCELLENT!!!!!!!!!!!!! (TRY IT)

- by poochie99
I have really enjoyed Stand O' Food. It's challenging but not too hard. In the game you can get extras to help you I really like the Tabasco. It really gets a lot of money and goes on just about everything. The coffee maker can help you run a lot faster. The sandwich toaster gets extra money and the jukebox and fan keeps customers waiting longer. I would definitely buy the second version of this game if one comes out.

- by JKelly1808
I really enjoyed this game. Granted, it can get a little bit repetitive, but once the pace picks up, its a nice challenge. Not the best game ever, but really fun in my opinion.

- by purplecak
Related Games
If you like Stand O' Food game, you may also like...