Farm Craft
Test your Farm Craft and get your hands dirty in this addictive farm management game. in addicting Farm Craft Game
System Requirements
Windows 2000/XP/Vista
DirectX 7.0
256 MB RAM
Processor 800 GHz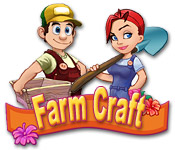 Farm Craft Game Description
Create your dream garden in Farm Craft. Our hero, Ginger, helps numerous rural farmers take on the AgroCorportion, a big agricultural conglomerate that wants to develop the land outside of town. It's up to Ginger to keep her farm and save the village (heck, the entire county is counting on her!). Don't be afraid to get your hands dirty in this addictive time-management game that digs its way into the farming, flower, livestock, and beekeeping businesses. Join Ginger on her delightful journey in Farm Craft today.
Farm Craft full version features include:
Design Your Own Farm
Tons of Crops, Livestock, and More
Cool Graphics and Animations
Hours of Family Fun
Farm Craft Game Customer Reviews
I absolutly love this game. Great graphics, fun game play. Better then other farming type games I have played. Recommend to any time management lover!

- by Aidens_Mom
[...] On the whole, due to the addictive game play, cute storyline and cartoonish visuals the game is a nice choice among the numerous farming time-managements released lately.

- by Gamemile
Great game. Lots of play time - especially if you play it through once without worrying about time and then go back and play for the trophies before time runs out on each level.

- by RaeMat
Related Games
If you like Farm Craft game, you may also like...