Northern Tale 2
Defeat a great evil threatening the Vikings! in addicting Northern Tale 2 Game
System Requirements
OS: Windows XP/Windows Vista/Windows 7/Windows 8
CPU: 1.2 GHz
RAM: 1024 MB
DirectX: 9.0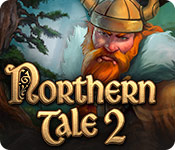 Northern Tale 2 Game Description
After the evil witch Gesta was defeated, the time of peace was restored and the Viking king Ragnar decides to restore the kingdom in its former glory. Repair ruined villages, heal cursed trees and restore the domain to its former glory. However, Gesta is still alive, and an even greater evil is threatening the Vikings. Travel through 50 gorgeous levels and explore wondrous locations. Make friends with mermaids and mushrooms in faraway lands, prevent a war between two mighty nations and see the story come to life with the improved 3D graphics!
Northern Tale 2 full version features include:
New wondrous and colorful locations
Enchanting fairytale characters
Play through 50 challenging levels with your best time management strategies
Repair building, collect gold, grow and collect food, build new structures and upgrade old ones
Try the original Northern Tale!
Northern Tale 2 Game Customer Reviews
If you thought they couldn't make the Northern Tale game better, you would be wrong! The graphics are improved 3D which makes the game almost lifelike. I also liked the tidbits of information they give you about the Vikings such as the surprising fact that Vikings were the only one's who bathed everyone else thought it was unhealthy! There are the usual TM tasks of collecting food and gathering resources of gold and lumber. There are 3 different modes of difficulty, normal, multi- click and relaxed without timer. You must complete the tasks given within certain times to earn 1-3 stars (in timed modes) such as repairing bridges, building houses or upgrading buildings to hire more workers. When you build gardens or mills they will continue to produce resources which are needed before bridges or gates can be constructed. There are bonus tools at the bottom of the screen that when activated can speed up the vikings or even freeze time for 15 seconds. Personally I loved this game even more than the original one, enjoy!

- by pennmom36
The game is fantastic. I had no problems at all. The levels are harder than ever. I really liked the animation on the ladders. The plot is quite complex and i couldn't tell how the game would end until the very end. Eagerly anticipating Northern Tale 3.

- by TimParty
Loved the first Northern Tales - this is twice better. Graphics are excellent, game is fast paced and supplies load faster. There are villages, castles and stone bridges to repair along with more characters (such as Lizard Men). Played for 30 minutes and was hooked! You can't go wrong with this one and hope a third will come along one of these days.

- by cowclaudia
I would buy it today. Loved the new additions. Graphics are awesome. You don't have to collect the resources,once built, they automatically add to your total. I loved the fishing for food new addition. getting the villagers involved in restoring the town. I didn't run into any problems. Played in the multitask mode.

- by Micah
Related Games
If you like Northern Tale 2 game, you may also like...