The Amazing Brain Train
Power up your intellect and put your brain to the test! in addicting The Amazing Brain Train Game
System Requirements
OS: Windows XP/Vista/7/8
Memory: 256 MB
CPU: P 500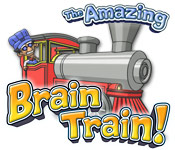 The Amazing Brain Train Game Description
Fueled by your mental energy, Professor Fizzwizzle's Brain Train will take you on a brain-boosting adventure! There are 15 different brain games in five different categories including Search, Memory, Numbers and more! But the real test will be to decide which mode to play! Perform epic deeds in Quest Mode, see if you can make the grade in Test Mode or try and master any of the brain games in Practice Mode! Put your mighty mind to the test and see how far you can go!
The Amazing Brain Train full version features include:
15 Different Games For Your Brain!
Play Test, Quest Or Practice Mode!
32 Unique Trophies To Unlock!
Put Your Mind To The Test!
The Amazing Brain Train Game Customer Reviews
Good puzzles, fun art, odd story choice. Here the puzzles are excellent (sliders, tangrams, math, spatial), but the dialogue is awful. And the dialect would make it impossible for young kids to read for themselves. I enjoy the individual puzzles, but I cringe each theres a quest comment. Fortunately they only occur in between the actual puzzles. I hope they drop the dialect in future games in the series.

- by robin94122
This game is GREAT! It has a great mix of brain teasers to keep you sharp. The graphics and storyline are a bit "kid-like" but can definately be overlooked when playing the mini-games. The sounds are nice, they don't overpower you while your playing. I definately have to admit that I played this for hours!

- by SykotikDisaster
This game will have you constantly trying the exercises over and over again, but never gets boring. It gets exciting when you answer that last question in a split second and beating your own personal score, but you still feel that it isn't good enough. The brain train has you trying to solve the problems of each animal, but you have to play the mini games to power that brain train of yours. Obviously the better you do the further your train goes. This game can become quite addicting, actually it will become surprisingly addictive as you attempt to always beat your score. It is just an amazing game.

- by Oipluckie
Related Games
If you like The Amazing Brain Train game, you may also like...