Tower Bloxx Deluxe
Build tall towers in a wacky city. in addicting Tower Bloxx Deluxe Game
System Requirements
OS: Windows XP/Vista
CPU: 600 Mhz
RAM: 256 MB
DirectX: 7.0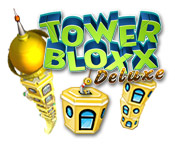 Tower Bloxx Deluxe Game Description
Reach for the skies in this wacky skyscraper construction game! Your task is to build brand new homes for the Tower Toons(TM)...funny little people who move in and turn the lights on before they even have a roof over their heads! Rebuild bustling cities by stacking the tower blocks precariously higher and higher as the skyscraper sways dangerously in this dynamic puzzle game!
Tower Bloxx Deluxe full version features include:
3D skyscraper Puzzle game
Test Your Reflexes!
Build a booming town
Create Homes For The Tower Toons!
Tower Bloxx Deluxe Game Customer Reviews
This is something totally different that I have played before. At first I thought this would get boring fast, but game prove me wrong. I wish there would be more game like this out that try something new. Only puzzle aspect could be more challenging. And yes, as some other already mentioned, game looks great and you will become addict sooner or later, if you only give this game a chance.

- by Garry
I've had this game for quite some time and I've never got tired of playing it. I've always been amused by the way new inhabitants arrive into their apartments. First, they use umbrellas. Then, after you go out into space, they just come from everywhere using the zero-gravity environment. By that time, no matter how accurate I was, the building swings like a twig in the wind, yet, it never collapses. It swings, but people don't mind it. I would mind it in the first place, living in a tall building is scary for a number of reasons and no beautiful view from above would make me forget about them. The crane is interesting too: it somehow flies above the building. Yet, the crane gets unbalanced every 50 floors, so there you have a mini-game: you fix the crane and it drops blocks straight for a few seconds. Take your chance at that...

A ton of upgrades and different game modes await you as you build skyscrapers one by one accurately. Yet, it's three misses and you are done for it. Nonetheless, there is a plenty of stuff to enjoy...

This great game has finally found its place on Reflexive Arcade. I'm happy about it and I was surprised to find it here after so long... I could just keep on talking about it. It's that great!!! Enjoy it!

- by Gaimer
Related Games
If you like Tower Bloxx Deluxe game, you may also like...