Pet Shop Hop
So much cute, so little time! in addicting Pet Shop Hop Game
System Requirements
OS: Windows XP, Windows Vista
Memory: 256 MB
CPU: P 1.2GHz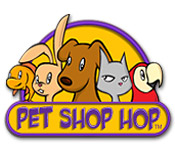 Pet Shop Hop Game Description
Herding cats is nothing -- try running an entire pet store! For decades your family business has offered pretty fish, cuddly kittens, furry rabbits, adorable puppies, and feathered friends to customers from the neighborhood. Times are changing though, and now MegaPet Superstore is threatening to put you out of business! Grow your modest pet shop into an exclusive boutique and increase profits to avoid being gobbled up by the competition!
Pet Shop Hop full version features include:
Sell A Variety Of Animals And Fish!
More Than 50 Purrfect Levels!
Play Story Or Challenge Mode!
Many Additions Available For Higher Profits!
Pet Shop Hop Game Customer Reviews
Can you help save the pet shop? When I play this game I feel like I am working with real pets.There is so much to do in running a pet shop,such as caring for the pets,keeping your customers happy etc.Running a pet shop requires much planning ,like what upgrades should you buy? So can you increase your profit and work your way from a small business to a super pet shop? Whether you're an animal lover or not(which you will learn to be) you'll find this game is for you.It is for me..thumbs up on this one!

- by Sharon5340
This game is purrfeclty fun.This was not like any other pet games,this was the best pet game i ever played!!!

- by mdemjoko
Related Games
If you like Pet Shop Hop game, you may also like...