Rainbow Mosaics: Blooming Garden
Win the competition for the best garden! in addicting Rainbow Mosaics: Blooming Garden Game
System Requirements
OS: Windows XP/Windows Vista/Windows 7/Windows 8/Windows 10
CPU: 1.6 GHz
RAM: 512 MB
DirectX: 9.0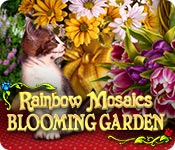 Rainbow Mosaics: Blooming Garden Game Description
Charlotte's father hunted for treasures all his life. He was a genius, as well as an archaeologist, historian, and philanthropist. However, he's discovered reliable information about untold treasures but a criminal clan found out about his research. The bandits decided to steal all the treasures and use Charlotte to do all their dirty work for them. Take a trip through Europe with Charlotte in a hot air balloon, seeking out hidden treasures and expose the criminals that are wreaking havoc across the continent.
Rainbow Mosaics: Blooming Garden full version features include:
120 unique levels!
Upgradeable power-ups
Select from several tile skins
Colorful themed backgrounds
Rainbow Mosaics: Blooming Garden Game Customer Reviews
Wow, finally we have an excellent new game in the field of griddler type puzzles. I am a huge fan of the penguin family and had almost given up hope that any other developer could do these games as well. This morning when I tried Rainbow Mosaics Blooming Garden, I knew it was a game I had to add to my gaming library. Griddler type games are the ones I always turn to when I feel like I need a break from my daily routine. I had given up hope that I would ever find a griddler game that I love as much as I do that "other one."

The graphics are excellent and although the grids are a bit smaller in size they are clear. Not only do we have grids with several different color options, there are several tile sets to select when setting up the game. The background music is good but, the dialogue really, really, needs some grammatical help. I have a feeling the days of ¡°polishing¡± up a game are long gone here in the pond. That minor complaint out of the way, there is so much to love about this game that makes it terrific. Rainbow Mosaics offers the ease of use that my other favorite griddler provides. I like the auto-fill feature that completes the empty cells once we mark the ones in a row or column that have been marked with all available cells. I also like the little dots that we place in unused cells which are so much better than having to use some huge and annoying push pin to fill a cell.

Rainbow Mosaics Blooming Garden is an instant buy for me but, as always, please try the demo to see if this is a game you will enjoy.

- by biscuitsmama
I love these mosaics games, they so different and really keep the brain active!

- by almy
Related Games
If you like Rainbow Mosaics: Blooming Garden game, you may also like...