Fantasy Mosaics 2
Enjoy this new collection of fantasy mosaics in addicting Fantasy Mosaics 2 Game
System Requirements
OS: Windows XP/Windows Vista/Windows 7/Windows 8
CPU: 1.6 GHz
RAM: 1024 MB
DirectX: 8.0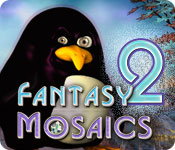 Fantasy Mosaics 2 Game Description
Your journey to the fantasy land continues with the newest collection of mosaics puzzles! Discover the fantasy images intricately woven into 100 custom built levels and enjoy new innovative features that enhance gameplay and add to the fun. Embrace the challenge of mosaics and build your new fantasy garden!
Fantasy Mosaics 2 full version features include:
100 custom built puzzles
Breathtaking locations
Restore your fantasy garden
Fantasy Mosaics 2 Game Customer Reviews
As usual, starts off simple, then gets progressively difficult. There are sometimes hints to help you out. The colors are bright and vibrant and fun. Only one color is used per puzzle. 20 sets of 5 puzzles each, so 100 puzzles to solve! Helps you exercise your brain in deduction, math, and good old common sense. I love this game!

- by spiritlaughing
They don't waste any time getting straight into some challenging problems. It was good not having the start super easy since the first Fantasy Mosaics provided that. Enjoy the pieces of your zen garden you get after completing the different sets of 5 puzzles. Nice soothing music helps you relax and make it easier to focus on the puzzle and not get overwhelmed by it.

- by canadiangirl94
I have 22 min left out of 30 we are given....I am not an expert, but love the Mosaic series....this is quite good so far....if you clear a row, it fills in all the blanks for you...Like that! lol Music was ok for the time I played, no slow down of the cursor...good game IMO...

- by cboust4154
Related Games
If you like Fantasy Mosaics 2 game, you may also like...