Loco Mogul
Have fun building a railroad empire! in addicting Loco Mogul Game
System Requirements
OS: Windows XP/Vista
CPU: 600 Mhz
RAM: 128 MB
DirectX: 6.0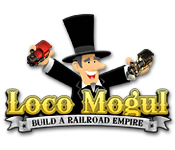 Loco Mogul Game Description
In Loco Mogul you play a seasoned railroader turned entrepreneur as you attempt to build a railroad empire. Search for hidden towns, mines and other customers in your territory then build a fully functional railroad, complete with train stations, junctions, bridges, and mountain tunnels. After you've built your railroad lines you get to run your trains and maximize profits by delivering materials to their destinations before your fuel runs out.
Loco Mogul full version features include:
Randomly generated levels
Great 1850s atmosphere
Unlimted gameplay with Sandbox Mode!
Flatten hills for hidden surprises
Loco Mogul Game Customer Reviews
Simple, original and engaging, Loco Mogul is everything a casual game should be. It's easy to pick up and play in short spurts, but you can just as easily whittle away an entire afternoon surveying land and driving carts around the map. It's a unique experience that manages to present a good challenge without frustrating even the most casual of players.

[...]It's great to see a game combine so many genres into one finely-tuned product. Switching between Minesweeper, tycoon and time management styles keeps things moving at a brisk pace, and you enjoy every minute of Loco Mogul as if you were a little kid playing with a toy train.

- by JohnB
[...]Because of the range of gameplay features, Loco Mogul will appeal to many types of mainly casual gamers, but the strategists might get a bit out of this title too. It is certainly capable of commanding quite a diverse fan-base, and this should work in favour of the developers - ApeZone. I would definitely give it a hearty recommendation to all readers. Theres something here for everybody. Its a solid, fun and absorbing title, and there arent too many casual games out there that I could honestly say that about.

- by Steve Blanch
Related Games
If you like Loco Mogul game, you may also like...