Sable Maze: Forbidden Garden
A maze of enchantment awaits! in addicting Sable Maze: Forbidden Garden Game
System Requirements
OS: Windows XP/Windows Vista/Windows 7/Windows 8
CPU: 2.5 GHz
RAM: 1024 MB
DirectX: 9.0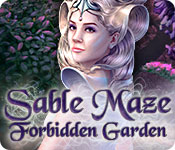 Sable Maze: Forbidden Garden Game Description
From Daily Magic, creators of the acclaimed Dark Dimensions and Sable Maze series! Your parents always told you to stay away from the mysterious hedge maze behind their house'Ä?and you're about to find out why. On the eve of your wedding, your fianc√©, Ryan, is kidnapped by a mysterious force and dragged straight to the heart of the maze - or so it seems. As you follow his trail, you discover that the labyrinth contains a door to another world... and whoever is on the other side has a vendetta against your entire family. Can you uncover the roots of their hatred and bring Ryan back before all is lost? Find out in this gorgeous Hidden Object Adventure game!
Sable Maze: Forbidden Garden full version features include:
Sable Maze: Forbidden Garden Game Customer Reviews
I have played dozens and dozens of this type of game and this was an almost perfect example of what I usually look for. Apart from being on the pink and purple end of the color spectrum, which I gather some people - not me - hate, the graphics were beautiful and detailed. The sound was exceptional, not too much music, and the sound effects really added to the game. The plot was more or less what you would expect, but even though the game was quite long it was not boring.

Two things they did really well, in my opinion - the helper creature was adorable, and used quite frequently. It wasn't just a throw-in. Usually those helpers don't do it at all for me but this one I liked. And second, the HOS were MUCH more interesting than usual. Usually I just tolerate them but I enjoyed these. You didn't just find items on a list, most of the time you had to find items in a particular order, using the first to get the second, the second to get the third, and so on.

Some people complained that the game wasn't logical but I have to disagree - I only needed a hint about three times because it was usually very clear what you needed to do next, and the tasks made sense most of the time. And surprise! You never needed a crowbar! The puzzles were on the easy side, some of them childishly so, but a couple were pretty tough and there were a few I had never seen before. They really packed a LOT into this game and unless you hate purple I suggest you give it a try. Don't be put off by the opening 5 or 10 minutes, which is pretty treacley - it gets better, I promise.

- by Scobeaux
I don't know why people haven't loved this game, it was soo totally perfect in my opinion! Once I started playing, I continued till it was over(which was in about 5 hours) This is my first Sable Maze game. The graphics are breathtakingly gorgeous, almost everything is in shades of pink so its simply beautiful.The Ho's were fun too, they were the sequential ones which I've always preferred because I don't like looking for 10 unrelated random objects. But in any case, if you don't like HO's they have a match 3 option which you can play instead. The story line was enchanting, there are good fairies and there are bad fairies. The queen is bitter cause she got dumped by a guy who ran away with another girl and sealed off their fairy world, leaving them with very little magic- so she decides to take revenge. So if you like Fairy Tailish games, you'll definitely love this one! I recommend the CE because the SE ending is quite abrupt.

- by vodkapuppy
Related Games
If you like Sable Maze: Forbidden Garden game, you may also like...