Shadows: Price for Our Sins
Halloween decorations aren't the only things hanging around spooky Stone Farm... in addicting Shadows: Price for Our Sins Game
System Requirements
OS: Windows XP/Windows Vista/Windows 7/Windows 8
CPU: 3.0 GHz
RAM: 512 MB
DirectX: 9.0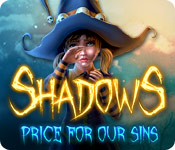 Shadows: Price for Our Sins Game Description
It's Halloween night, and Dylan and her fellow students have decided to throw a Halloween party at abandoned Stone Farm. Little do they know, their decorations aren't the only things hanging around this spooky house. When the friends stumble upon an ancient artifact, they unwittingly open a portal to the underworld and release the souls of the Stone family, which were being held captive by Lord of Darkness Samhain! The enraged demon steals the souls of the students in revenge, but Dylan narrowly escapes his clutches. Can Dylan earn the help of the escaped spirits and save her friends? Play the game and find out for yourself - if you've got the guts.
Shadows: Price for Our Sins full version features include:
Thrilling mystical atmosphere
35 quest scenes
18 HO scenes
30 mini games
Shadows: Price for Our Sins Game Customer Reviews
Top notch game. Keeps you interested with a different story line- a lot of mini stories that make up the whole. Mini games and HO scenes were easy enough, but not mind-numbingly easy. Actually read all the things, because it tells a relevant story to what it going on. Great game for a weekend with no plans- you won't want to leave the game til you are finished.

- by racheline74
I really enjoyed this game....The story line kept me wanting to keep going to find out the ending....and what a wonderful ending it was....I love any game that has to do with Halloween...the characters and voice overs were great and i enjoyed the minigames as well.....the hidden objects were hidden just hard enough but not too hard..I thought the graphics were amazing...I was very grateful for the map I did have to use it a few times in some sticky spots but it wasn't extremely difficult...Would love to see more games like this one...

- by jaynjobird
I like the feel of this game. The graphics are pretty and the story is interesting. I'm buying it right now but wanted to review it ASAP to get some feedback out there on this game. I can't give the most in depth review since I haven't finished it yet. But I have faith that this is going to be a really good game. The atmosphere is just right. My favorite. Dark but not gloomy. Thirty minutes into the demo I decided I wanted it. I really like the style of puzzles and the fact that I'm not bombarded by HO scenes.

- by TheMagus84
This is a really neat game. The HOGs really make you think. I found it fascinating. I think you have to give it a chance, because I was stumped with the very first game and almost gave up. Thankfully, I wasn't the only one when I went to the forum. A lone girl went to a halloween party, and her friends all disappeared in shadows and it goes on from there but I don't quite understand where this is going. I am definitely going to buy this game NOW though. I hope it continues to be as interesting later in the game.

- by lucygirl7
Related Games
If you like Shadows: Price for Our Sins game, you may also like...