Slingo Quest Hawaii
You've completed the Quest, now it's time for a Slingo Vacation! in addicting Slingo Quest Hawaii Game
System Requirements
OS: Windows 2000/XP/Vista
Memory: 256 MB
CPU: P500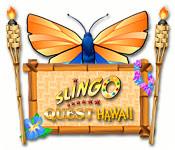 Slingo Quest Hawaii Game Description
It's time for a Slingo vacation! Take off to the beautiful Hawaiian Islands with some brand new tricks, game modes, power-ups and more for another great Slingo adventure! Lie on the beach and order up some Slingo Tricks like Summon Joker and Pattern Match. Dive deep to a Coral Reef and discover Platinum Coins and Tiki Jokers. Hike up to the Secret Volcano and take on the Tiki Guy in a game of Volcano Slingo. It's all-new Slingo Fun with Slingo Quest Hawaii!
Slingo Quest Hawaii full version features include:
Get Ready For A Slingo Vacation!
New Tricks, Game Modes, Power-Ups And More!
60 New Levels!
Hawaiian Postcards To Earn And Collect!
Slingo Quest Hawaii Game Customer Reviews
I played Slingo online for years but it was nothing like this! The graphics and sound are amazing. There are a couple of requirements that I haven't gotten yet, but with practice I will. This game is excellent for both kids and adults. Lots of entertainment and you can keep playing until you beat the level.

- by Trusso1441
I love the new twist on this classic game. I could play for hours and not get bored. Challenging levels of play.

- by Birdy62
This game is very addicting. Many levels. Many extras than the original slingo. Once you start playing time just flys by.

- by minunee
Related Games
If you like Slingo Quest Hawaii game, you may also like...