The Tiny Tale 2
Travel on a mysterious journey to save the Elven Kingdom! in addicting The Tiny Tale 2 Game
System Requirements
OS: Windows XP/Windows Vista/Windows 7/Windows 8
CPU: 1.0 GHz
RAM: 512 MB
DirectX: 9.0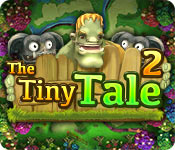 The Tiny Tale 2 Game Description
The Elven kingdom is in great danger! Thanks to the greed of Elven Queen Ginevra the Elven life-giving shrine was corrupted by the Evil Necromancer. The Troll and his fellow Gremlins must find the remaining holy shrines scattered around the kingdom to heal the cursed one and banish the Necromancer. Head on to mysterious journey with your creatures and save the Elven kingdom!
The Tiny Tale 2 full version features include:
40+ challenging levels
Various spells and enemies
Customize and outfit your little helpers
Challenging time-management gameplay
Try The Tiny Tale
The Tiny Tale 2 Game Customer Reviews
The Shrine of Compassion has been corrupted, instead of spreading health and well being, the Shrine is now spreading death and the Trolls must find the other Shrines and take a sample of each one to rejuvenate the Shrine of Death. You can choose a Relaxed setting if so desired, and you can speed up the game or slow it down to customize the game. There are several resources to collect such as wood or food and you must send the Troll Shaman to chase away the Mummies, Pumpkin Heads, and Skeletons which will steal your resources. If you build houses, you get more Gremlins which are the one's who do the legwork here, and if you build taverns, they will produce food over time. You are tasked with collecting manna, gold and chopping down trees for wood, and you must fix bridges and corrupt gardens which will produce food as well. There are several alters which when activated will regrow trees and pumpkins and even make the gremlins faster for a burst of time. One of the features I like on this game is that whenever you press the spacebar, you can see what tasks are available in green circles around the items and if the item is red that task is not yet available. When you complete the level in the allotted time, you receive flowers that can be used to upgrade the gremlins and Troll in a 3D virtual room, enjoy!

- by pennmom36
This is just as whimsical as the first installment of this game. The graphics are large, clear and quite adorable. Yet again, I love watching the little shaman troll dance when he turns baddies into mushrooms. I'm not a huge fan of the over-played genre of resource management games because of the lack of originality in them (collect wood, stone and food - they're all the same). But this one is so whimsical and has such nice graphics and enjoyable music that it was an immediate buy for me.

- by SilverBranch
I felt this game was a good one. As before I have the shakes bad and when I play under time pressure forget it can't controll the mouse or my movements. So these games you complain about are perfect for me. No pressure and they are a little funny .Make me smile playing them.Please if its not for you pass on it but don't low ball it because a lot of people enjoy NO PRESSURE games .Enjoy.

- by BiddyCat
I was looking for a time management game that didn't cause a lot of stress - I play for fun! This is perfect. And you get to play dress up with the characters! It is childish, even on timed play but on relaxed, it is something to pass time without pressure to "win". And I like the story - hurray for gremlins!

- by galet09
Related Games
If you like The Tiny Tale 2 game, you may also like...