The Witch and The Warrior
Explore this magical world! in addicting The Witch and The Warrior Game
System Requirements
OS: Windows XP/Vista/8
CPU: 600 Mhz
RAM: 128 MB
DirectX: 6.0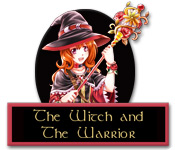 The Witch and The Warrior Game Description
Life's not always a fairytale when you are a witch, especially in a world that is full of suspicion. Explore this magical world in The Witch and The Warrior! An uncomfortable truce is only just forming between the magic and non-magic folk after years of war, but the message is spreading slowly. Experience the trials of a teenage witch in this fun and exciting Strategy game.
The Witch and The Warrior full version features include:
Magical story
Choice of Familiar
Multiple endings
Easy/Normal/Hard Modes of Play
Explore this magical world!
The Witch and The Warrior Game Customer Reviews
I really enjoyed playing this old-time rpg game - it was fun and had a great story line - and I also liked that it was a relatively long game (I wasn't done in a few days like many other games).

If you like Aveyond I think you'll enjoy this game as well.

- by Katiendan
The graphics are primitive but pretty. The battles, not precisely gripping.

But the storyline is great. Plenty of side trips, pelnty of characters, plenty of different directions for you character to take. She is growing up and making more and more seriouls decisions. And while the visuals and mood may be primitive, the characterization and storyline are not.

This is best played slowly, in differnt stages, so that you can do the exploring you want and roam all over, until you figure out what to do. Who knows, in your wandering, you may get yet another quest. Great fun for a long time.

- by AdrianaIP
Similar to the Aveyond and Ella's Hope games, this is a straightforward RPG with tons of sidequests, some of which are time-sensitive. A choice of familiars (pets) encourages you to replay the game. The story ending gives a feeling of completeness. If going to school every day turns you off, keep playing until you are let loose!

- by Nijimasu
Related Games
If you like The Witch and The Warrior game, you may also like...