Tino's Fruit Stand
Help Rikki save the fruit stand in this fresh puzzle game! in addicting Tino's Fruit Stand Game
System Requirements
OS: Windows 98, Windows 2000, Windows XP, Windows Me, Windows 98SE
Memory: 128 MB
CPU: P600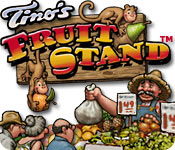 Tino's Fruit Stand Game Description
Tino's family fruit stand is in danger of closing! With a little help from Rikki, the fruit-picking monkey, your job is to fill orders and keep the customers happy. Fill orders correctly to get bonuses, but don't slow down or let the fruit sit for too long -- that will lead to unhappy shoppers and cost you the family business! Play through 85 amusing levels and 3 engaging game modes on your road to success. Make the right decisions and you'll grow more than fruit ... you'll grow an empire!
Tino's Fruit Stand full version features include:
Grow Your Empire!
85 Amusing Levels
3 Engaging Game Modes
Fill Special Orders For Big Bonuses!
Tino's Fruit Stand Game Customer Reviews
This game is not what it appears. It is not a "pick 3" or swap game. You must collect fruit and fill orders to get enough money to help save Tino's Fruit stand from big business! Just don't put too much fruit in your basket! I suggest trying to get as many combos as possible in order to earn the most money. I give this game an 8 for replayability!

- by SelinaKitten
It was a really fun game to play and it was easy to learn my kids will have a great time playing this game.

- by lindapaiz3477
O yes, another help the family/character game that keeps us glued to the PC. After Diner Dash helping Flo, Cake Mania with Julie, heres Tino's Fruit Stand with Rikki. Not just another match-3 game as I found out when I expected it to be. Help Rikki get all the orders without losing customers and wasting the stock. I tell you, its not what you would be expecting. Not the same as Diner dash, cake mania, sorts. A brand new technique. You'll never get bored bcoz it always manages to keep you on your toes.

- by nicky2006
Related Games
If you like Tino's Fruit Stand game, you may also like...