Turtle Odyssey 2
Ozzy needs your help again! in addicting Turtle Odyssey 2 Game
System Requirements
OS: Windows ME/2000/XP/VISTA
CPU: 600MHz or faster Processor
RAM: 128 MB
DirectX: 6.0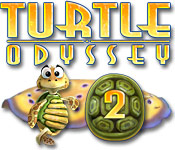 Turtle Odyssey 2 Game Description
Take off in a magical atmosphere of underwater adventures with a brave and kind turtle, Ozzy. During and innocent game of catch, Ozzy accidentally smacks into a slab of ice, cracking it open and releasing a mysterious creature. Intrigued, he unknowingly sets off on the journey of a lifetime. Help Ozzy traverse the mission map and find out just what he set free in Turtle Odyssey 2!
Turtle Odyssey 2 full version features include:
50 levels.
6 different worlds.
17 enemies.
Turtle Odyssey 2 Game Customer Reviews
All my family actually enjoys this game: me, wife and 5 years old daughter (she became the real fan of it, before she didn't pay much attention to the PC games at all). It's the game you don't need any special skills or mood to play - you just sit down and enjoy the Turtle's adventure. I find it too easy, so I set extra tasks for myself - pass the level w/o killing a single monster, or not losing a single armor point. ...overall I'd say that this game is just great and absolutely worth its price. If you don't believe me - ask your kids.

- by murmandramus
i just had to take the time to compliment the beautiful graphics this game had. all the items looked so real. gameplay was great too, compared to the first turtle odyssey.

- by bluexbunny
I find this game amusingly addicting!! LOL Using a keyboard, is my choice. The characters are cute and it isn't easy dodging the "bad guys"! At least for me! I love HO games, but this is a pleasant change from that genre, for a little "relaxing" play!!

- by LindaB
Related Games
If you like Turtle Odyssey 2 game, you may also like...