Virtual Villagers: The Secret City
Guide a tribe of castaways as they unravel the mysteries of Isola! in addicting Virtual Villagers: The Secret City Game
System Requirements
OS: Windows XP/Vista
Memory: 256 MB
DirectX: 7.0 or later
CPU: P700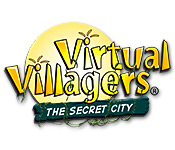 Virtual Villagers: The Secret City Game Description
Embark on a journey with a group of adventurous villagers in their quest to populate a new part of the mysterious island of Isola! Land on the hidden shores of the northern side of the island and explore what was once a secret city. Find new sources of food to nourish your villagers and help them rebuild the remains of this long lost city. Who lived here before? Where have they gone? What is the secret of Isola? Lead your tribe to the answers in Virtual Villagers - The Secret City!
Virtual Villagers: The Secret City full version features include:
Unravel The Mysteries Of Isola!
Real-Time Gameplay And Weather!
Dozens Of New Collectibles!
Rebuild The Remains Of A Ruined City!
Virtual Villagers: The Secret City Game Customer Reviews
This is a really fun game. I'm a big fan of all the Virtual Villagers series. This one wasn't really an exception to that. As always, it's based on real time and you have to keep your village flourishing. But somehow that never happens!!! For me that is. Some days I come back and my whole village is dead. From lack of food or something. I MUST be doing something wrong. But overall, I would highly reccomend

- by Chase
It was rather hard in the beginning, as food supply were limited, but it got easier and easier the longer you played with it.. There were many puzzles for you to finish and it was quite hard trying to guess what the puzzles were. It was also alot better than VV2 as certain bugs were being fixed. Quite interesting, good luck growing your tribes! ;) - Worth buying! :D -

- by xia0lis
This game is very good.. I already had pplayed 1 and 2, but this one is much better!! Good job!

- by Martinhah
Related Games
If you like Virtual Villagers: The Secret City game, you may also like...