Weather Lord: Legendary Hero! Collector's Edition
Call upon the gods of Olympus! in addicting Weather Lord: Legendary Hero! Collector's Edition Game
System Requirements
OS: Windows XP/Windows Vista/Windows 7/Windows 8/Windows 10
CPU: 1.6 GHz
RAM: 512 MB
DirectX: 9.0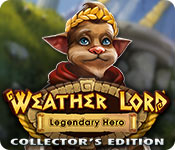 Weather Lord: Legendary Hero! Collector's Edition Game Description
Everything seemed to be going well for Weather Lord and his wife, Olivia. They left their homeland to enjoy a vacation, but when they arrived, their island destination was in ruins! Without warning, Olivia got sucked through a portal and the gateway closed, spiriting her away to an unknown land! But our hero will always find a way to make things right. Now you must call upon the gods of Olympus to help you rescue your beloved, before all hope is lost! Wield the power of the sun, the wind, the rain, and more as you face towering obstacles, encounter strange enemies, and repair a ravaged land. Manage your resources well, and victory will be yours. With each thrilling step you take, you'll gain powerful new bonuses and then encounter fresh challenges that require you to use them in clever ways. You'll also rebuild villages, engage in trade, and interact with fabled Greek gods.
Weather Lord: Legendary Hero! Collector's Edition full version features include:
Featuring a huge bonus chapter!
Step-by-step walkthrough of the game included.
Wallpapers, music, character bios, and an exclusive mini-game!
Hours of compelling game play!
Game Screenshots
(click on Weather Lord: Legendary Hero! Collector's Edition game screenshots to zoom)
Weather Lord: Legendary Hero! Collector's Edition Game Customer Reviews
Defying the frequent problem where each installment of a serial game gets worse, this game has been my favorite. Some of the annoying features of previous games were absent but for the most part the game was comprised of familiar functions. Having played previous games I found that I was able to play this game with very little instruction and a lot of enjoyment. I thought it was just fun. I played this with no timer, so it was an adventure game for me.

- by DrDavid
This is an excellent Time Management game with a good storyline and fairly decent graphics. Although this game has the typical TM tasks, collecting resources, gathering food, repairing bridges and buildings, it also has unique features using the elements of weather, helping Fairies and finding missing grandchildren. Enjoy!

- by pennmom36
Related Games
If you like Weather Lord: Legendary Hero! Collector's Edition game, you may also like...