Dairy Dash
Who knew that hard work could be so much fun? in addicting Dairy Dash Game
System Requirements
OS: Windows XP, Windows Vista
Memory: 256 MB
CPU: P 1.2GHz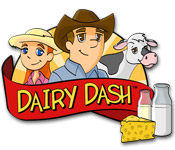 Dairy Dash Game Description
Ah, life on the farm...what could be more relaxing? Just about anything, according to the Smith family! Help these city slickers get a grip on the family farm as the entertaining hustle of the Diner Dash series goes pastoral! Care for cows, goats, chickens, and sheep while growing tomatoes, corn and pumpkins. You'll even enjoy the occasional glass of lemonade and fill an order or two for Flo! It's all in a day's work in Dairy Dash!
Dairy Dash full version features include:
Play 'Til The Cows Come Home!
13 Farm-Themed Trophies To Earn!
Play Story Or Endless Game Modes!
52 A-MOO-zing Levels!
Dairy Dash Game Customer Reviews
Whether you live in the city or in a small town you will certainly luv helping the Smiths run their farm in this Diner Dash type game.You will have many chores such as feeding many farm animals, collecting their produce,planting vegetables.While playing this game you will enjoy many hours from sunrise to sunset..And what makes it great Flo is calling you up for orders.So if you're a Diner Dash lover you'll love Dairy Dash!! Two Thumbs Up!!

- by Sharon5340
I love this game! Combing two of my favorite game types-Dash & Farms this is a winner.It seems easy but later in the game you really have to watch what you're doing and keep on top of things.All tho chaining is a big deal in these types of games,in this one(especially in later levels)you need to concentrate on product and small chains(think cheese)and I found you really do need to be organized and drink alot of lemonade;) Playfirst has a winning combo here I hope there's more to come.

- by Suzanne
I absolutely adore this game. Though it is not that much innovative, it makes the possible best out of the well-known time management principle. There were only two things that annoyed me a little - the bonus levels are no challenge at all because one cannot lose and to be just for fun - hmm - they are to boring ;) The second thing is the short time professional players need to finish the game. But all in all a great game, nice characters, and an extremely nice flow in the gameplay.

- by OrangeKnickers
Related Games
If you like Dairy Dash game, you may also like...