World Mosaics 2
Return to the world of puzzle mosaics! in addicting World Mosaics 2 Game
System Requirements
OS: Windows XP/Vista
CPU: 800 Mhz
RAM: 256 MB
DirectX: 8.1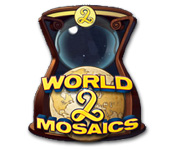 World Mosaics 2 Game Description
Return to the puzzle adventure that takes you around the world! Having tracked the origins of the Sea People to the legendary city of Atlantis, the power of a magical hourglass has taken you back through time in World Mosaics 2! Solve your way through the Puzzles of the Jurassic period, through the Dawn of Civilization, to the glorious Renaissance, as you restore the hourglass of the Pelasgians and return to your own time!
World Mosaics 2 full version features include:
Travel Back In Time, Through 7 Different Eras!
90 Story Puzzles!
More Than 10 Hours Of Addictive Gameplay!
152 Extra Puzzles!
World Mosaics 2 Game Customer Reviews
I love this game. I have waited for a long time to see a sequel come out and it is finally here. Recommended for all gamers. For kids, there is a little math involved which gives it some educational value. I loved gemsweeper until World Mosaics came out and now World Mosaics 2 is even better. Can't stop playing it.

- by dthieman
As someone who played the original world mosaics for hours, i think they overworked the concept. The new cursors are clumsy and not delicate enough for when you get into the larger mosaics. Would have been better to leave as on the original. Having said that, I was overjoyed to see another version of the game. I have just about worn the other one out, if that's possible. I play it over and over again. It's always challenging and entertaining. One of my favorites.

- by wanedw
This is a very good puzzle game. The music is relaxing, the story is intriguing, and the inlays are fun and interesting. I was not previously familiar with this kind of game, and I really enjoyed it. It made me think a little! Great job, IWin, I think I'll buy this one! Five stars!

- by ShayeraHol
Related Games
If you like World Mosaics 2 game, you may also like...