World Mosaics 7
Stop a rogue agent in World Mosaics 7! in addicting World Mosaics 7 Game
System Requirements
OS: Windows XP/Windows Vista/Windows 7/Windows 8
CPU: 1.0 GHz
RAM: 1024 MB
DirectX: 9.0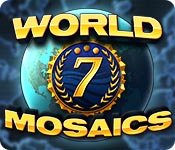 World Mosaics 7 Game Description
A shadow criminal has stolen the Sand within the Hourglass of Time from the Agency of Atlantis! Solve pictographic puzzles as you travel the globe in search of a rogue agent. Repair the fabric of time as you travel to the Galapagos Islands, Indonesia, the Amazon, and many more exciting locales. It's up to you to solve the puzzles and stop the rogue agent in World Mosaics 7!
World Mosaics 7 full version features include:
100 story mode puzzles
150 additional bonus puzzles
Test your skill with 3 star challenges
Try World Mosaics 6
World Mosaics 7 Game Customer Reviews
As soon as I saw this, I purchased it without even worrying about the trial, as I have all of the other World Mosaics games and love them. I like the storyline and also it doesn't take too long before the puzzles get challenging which is good for a seasoned puzzler like me. Highly recommended to all 'picross' or 'cryptogram' style puzzle lovers! Now if the makers of the World Riddles puzzles could come out with another game I'd be one happy puzzler!

- by aussiepenguin
Pinch me I must be dreaming! I have a feeling World Mosaic fans are going to crash the site with all the downloading of this game, the long awaited number 7! I don't know how it's possible, but the graphics are way better on this edition. As with the previous versions, you get a grid of different sizes such as a 10x10. There are a certain amount of tiles to be filled in with light tiles as indicated vertically as well as horizontally and once you figure out what the possible combinations are you use push pins to show where each combination ends and as each of the numbers have been filled, you simply use push pins as the numbers are filled to eliminate possible tiles. If you have never played a piccross game this will sound confusing but the tutorials on all Mosaic games explain everything quite well and you will be hooked after a few puzzles are completed and like me will be patiently waiting for # 8, enjoy!

- by pennmom36
The graphics are the best yet, colorful, and the game play is smooth, but what I like best is that you don't have to fill in every space. Once a puzzle is finished, it's finished.

I've only played the demo, but I'll definitely be buying this game come Monday. Great job devs! You did it again! even better! Beginners and experienced players both will enjoy this picross game.

- by katnap123
Related Games
If you like World Mosaics 7 game, you may also like...