Alice Greenfingers 2
Restore Uncle Berry's decayed farm in the latest Alice adventure. in addicting Alice Greenfingers 2 Game
System Requirements
OS: Windows 98/XP/Vista
Processor: 500 MHz or faster
Memory: 128 MB
DirectX: 8.0 or later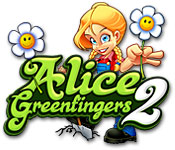 Alice Greenfingers 2 Game Description
The Greenfingers family has long complained that Berry, Alice's lazy uncle, should do something about his decayed farm. When Berry finally gives in and grabs the shovel, he gets a stiff back and immediately calls for Alice's help. Gentle and faithful as always, Alice packs her bags and sets off for a new season down at Berry's place!
Alice Greenfingers 2 full version features include:
Grow chili plants, lilies, sunflowers and 10 more types of crops
Enrich your farm with goats, bees, cows and lots of other animals
Use your creativity to design your own garden
Win golden trophies and badges for your achievements
Alice Greenfingers 2 Game Customer Reviews
Personally, I was glad when the goals in the early game ended so I could farm freely! Without specific criteria to follow, I didn't need to keep flowers or vegetables that I didn't find particularly pretty or profitable. The game's momentum continues due to the multitude and variety of upgrades. You can expand your space many times or increase sales at your booth for extra cash or even add a pond to create a new, aesthetically pleasing allure.

- by pandaverry
This game is so fun...so much better than the first Alice Greenfingers. This game has purpose to play unlike the first Alice game. Put this on your list of games...on the top!!!!

- by Anonymous
I love this game. The first was great, this was even better. There are goal challenges to meet every day. The one hour trial went by way too quickly!!

- by mae1196
Related Games
If you like Alice Greenfingers 2 game, you may also like...