Skyborn
Explore a world of magic, metal and mystery! in addicting Skyborn Game
System Requirements
OS: Windows XP/Windows Vista/Windows 7/8
CPU: 600 Mhz
RAM: 128 MB
DirectX: 9.0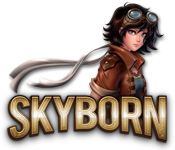 Skyborn Game Description
Life under the rule of the winged Skyborn race isn't so bad for Claret Spencer, the star mechanic of an independent repair shop. She can patch up just about anything...but when a certain cravat-wearing customer turns her life upside-down, she finds herself pulled into an epic, city-wide conflict that's going to take a lot more than elbow grease to fix! Join Claret on her journey through a tale of magic, metal and mystery as she unravels the secrets of the Skyborn!
Skyborn full version features include:
Unique story-driven adventure
Multiple character classes
Breathtaking orchestral soundtrack
Skyborn Game Customer Reviews
I have been playing RPGs for nearly 30 years, am a beta tester (~Not~ for the developer of this game), and Skyborn is just an outstanding RPG. The story and characters are completely enthralling. The visuals and sound are on par with any good SNES game, the navigation and menus are great--You have the ability to change difficulty of battles at any time during the game if you find the battles too easy or too difficult--and the tutorials about how certain features in the game work are terrific. If you are new to RPGs and find them intriguing, this is the one to play as the tutorials will explain a lot of things that are known to hard-core RPG people but may not be readily apparent to somebody who is playing a Role Playing Game for the first time. Again, the characters and story are marvelous, and the quests are clearly identified and very logical when you attempt to pursue them. I cannot say enough nice things about Skyborn. A Really, Really Fun Game!!!

- by gcbudka
This is from the same developer as Deadly sin and Deadly Sin 2, but is quite different from those, both in the type of story and in the graphics. Must start with the graphics - they are truly amazing and original, in a sort of steam cyber punk style (you just have to go and have a look at them). It's a game where strategy, augments and gear will make more difference to success in the fights than endless grinding will, so a chance to use your brain.

It's fairly linear, but that doesn't mean boring. It does mean that there are only a few quests (compared to, say, a game from Aldorlea), but they are interesting and worth doing.

I would like to have given 4.5, but no half stars allowed. I haven't given a 5 because I think it's a bit on the short side, and I would have liked more freedom to explore around. Also, I think one or two of the battles are not well balanced - but not so out of line as to be impossible. I do recommend it, though, as I think it's really enjoyable.

- by littlebro
Related Games
If you like Skyborn game, you may also like...