Supercow
Mooooo! Supercow is here to save the world from evil! in addicting Supercow Game
System Requirements
OS: Windows 2000/XP/Vista/7/8
Memory: 64 MB
DirectX: 8.1 or later
CPU: P500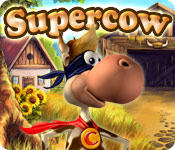 Supercow Game Description
The evil Professor Duriarti has escaped from prison! He has seized the farm and captured all of the animals! He cloned them and made the clones work for him to successfully fulfill his diabolical plan of earth destruction. Through her network of informants, Supercow heard about the situation, and dashed off to save the farm animals. Because after all, who knows how to save the farm better than Supercow? A funny arcade game for entire family, it's Supercow to the rescue!
Supercow full version features include:
Supercow To The Rescue!
Tons Of Levels And Challenges To Complete!
Engaging Storyline!
Easy To Learn And Fun For All!
Supercow Game Customer Reviews
The overall game premise is simple: collect coins, destroy enemies. It is very similar to Super Mario Bros., but with more focus on exploring and coin collecting. Supercow is a very competent attempt at a simple side-scroller for the whole family. It's great to wind down with after a day of shooting terrorists on Modern Warfare. Supercow is gorgeous to look at, and was lovingly crafted from start to finish. Great voice acting helps flesh out an unnecessary plot of sorts, as does a gentle learning curve and loads and loads of levels to explore. It's biggest weakness is also its greatest strength, and that is the simplicity of the gameplay. You simply walk and jump. Easy to love, but not much meat to it. I would love to see this developer try their hand at a dense, fully funded, sidescrolling console game.

- by Don Walton Jr.
THIS IS A GREAT ONE!! Truly a must buy. There are challenges and prizes on each level. The action hero is terrific! The 3D backgrounds are really good. Collecting gems and money have never been more fun. It is also great fun to STOMP out evil!! Really fun. I hate the wasps and spiders, especially when the spider is swinging. After having 25 lives I am now down to 8! BUT, SUPERHEROES NEVER GIVE UP!! THEY JUST TRY AND TRY AGAIN!

- by rcmdwyer1
SuperCow makes it fun for this game. It is not to hard and not to easy. It is a game where you want to win but you do better the next time. You learn from this game playing it over again. You have a lot of levels so the game is worth it for the money. This game has controls for jumping, pause and saving the game. Like a Mario game. Very enjoyable.

- by Cindi
Related Games
If you like Supercow game, you may also like...