The Tiny Bang Story
Save the Tiny Planet! in addicting The Tiny Bang Story Game
System Requirements
OS: Windows XP/Vista
CPU: 1.6 GHz
RAM: 512 MB
DirectX: 9.0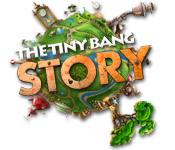 The Tiny Bang Story Game Description
When an asteroid hits the fragile world of Tiny Planet, it breaks into pieces! Save the population of Tiny Planet in The Tiny Bang Story, a fun Hidden Object Adventure game. Explore different locations and solve numerous puzzles to fix the important machines needed to repair Tiny Planet. Dive into adventure and save the day in this exciting game.
The Tiny Bang Story full version features include:
Gorgeous hand-drawn art
Fantastic gameplay
Save the Tiny Planet!
The Tiny Bang Story Game Customer Reviews
This game is stunning. It's well presented, it's fun, the puzzles are challenging but not annoying... there's almost nothing wrong with this game.

...almost. There is one 'game within a game' bit, on a little computer, that is unskippable, and so atrociously bad it almost made me want to quit tiny bang story in its entirety. I beg you, if anyone from colibri games reads this, smack the person who came up with that, hard. In a game that is otherwise relaxing, well paced, and beautiful, this one bit is hideously presented, aggravating, drawn out, and prone to make even the most virtuous of nuns scream out streams of expletives. Idiotic does not even begin to describe the the decision of its inclusion.

but to all readers, please don't let that sway you, the rest of the game is absolutely perfect, and that is but a tiny, tiny bit.

- by crashlanding
wow!! what a great game! a totally different interprutation of hidden object.... it is just a little bit like the dream chronicles series.

music is cute, may get irritating after a little while... but not yet lol! and i really adore the fairytale quality of the graphics, its cute and quaint without being cutsie and kitsch.

it has a clever hint system imo, where you click on buzzing mosquitos flying around the screen and this fills up your hint button. so far the hints have been little drawings that sketch out the idea, rather than text. i like this, as it still requires thinking about it!!

anyway, i am loving this and am about to purchase.

- by sparkle76
The Tiny Bang Story is so charming. So beautiful. I love it! I hope there will be more games by this group and that they will be equally delightful.

- by Kathleen Gresham
Related Games
If you like The Tiny Bang Story game, you may also like...