Rooms: The Unsolvable Puzzle
Escape the fantastical mansion of a legendary toymaker! in addicting Rooms: The Unsolvable Puzzle Game
System Requirements
OS: Windows XP/Windows Vista/Windows 7/Windows 8/Windows 10
CPU: 1.8 GHz
RAM: 2048 MB
DirectX: 9.0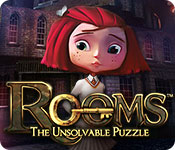 Rooms: The Unsolvable Puzzle Game Description
Rooms: The Unsolvable Puzzle is a unique puzzle game inspired by sliding puzzle and platformer games. In a twisted mansion made of rooms that slide like puzzle pieces, you must find a way to the escape by moving rooms and using items. As you explore the mansion, various gadgets make the puzzles more tricky and challenging. In this fairy-tale world full of magical objects and spooky stories, you take a role of an innocent little girl, Anne, who was accidentally trapped in the mansion. As the story unfolds, you'll be challenged to solve a series of diabolical puzzles while the dark legend of the twisted mansion is revealed.
Rooms: The Unsolvable Puzzle full version features include:
Unique and proven puzzle mechanic
Four beautifully crafted mansion themes
Complete storyline with two possible endings
144 puzzle levels=96 main storyline levels + 48 special ability levels
Rooms: The Unsolvable Puzzle Game Customer Reviews
I normally hate sliding puzzles, and all games that involve them, like Cogs. Like, really, really hate them. My friend only bought me this game because she knew how much I hate sliding puzzles.

But this game is different in that it's not just another sliding puzzle game, it's just a puzzle game that uses sliding as a mechanic. Instead of just trying to put together a picture or allign pipes or something, you control a character that you move throughout the different room tiles, and the game is based around figuring out how to move back and forth through the tiles to get to a door to the next level, with various mechanics like telephones that warp you between same-colored phones and wardrobes that warp the contents of the tile you're in with the contents of the tile with the other wardrobe. It also has pretty nice music. It's not run-out-and-buy-it-right-now good, but it's an interesting little puzzle game that's worth a shot if it's on sale.

- by Communist "Joseph Ballin" Layton
Some of these puzzles are very difficult and seemingly impossible, but they are all solvable. There was no walkthrough available at the time, but with the help of another person I was able to beat the game. As far as whether or not they can all be solved in the minimum number of moves, I haven't achieved that yet, but I assume they all can. Anyway, it IS a fun game, but quite frustrating at times. I recommend this game, but not if you're looking for easy puzzles.

- by mplsmn1975
A cute little sliding puzzle game that's more well suited for casual players than intense puzzle solvers; Rooms: The Unsolvable Puzzle is beautiful with a nice story.

- by Techraptor
I love the way this game makes you think about the best way to move the little girl from room to room! There is a short tutorial, and then you are on your own. Thank the game gods that you can retry over and over! it is very stimulating and much different than other games. Logic is the main skill needed. The other reviews go into the basics of the game so I won't repeat that in my review. Just know that this is kind of like a Rubik's cube or those little hand-held games of long ago where you have to move the numbered tiles around to put them in numerical order. Only a lot more fun with the beautiful graphics! I bought this game before I was even through the free trail.

- by grandmacathy
This is the first Rooms game for me and I just love it -- what a challenge. You need to apply logic to each room to find a way to the door. It can be frustrating at times, but It is worth trying to figure how each room is put together.

- by deddu
Related Games
If you like Rooms: The Unsolvable Puzzle game, you may also like...